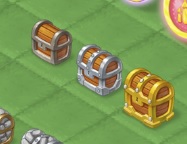 Chests hold all kinds of items and resources!
You can merge chests together just like other items, to get bigger chests with more treasure.
To merge chests, make sure you're merging chests from the same branch. To check which branch a chest follows, just tap on your Discoveries and tap on the chests tab. You should be able to see which chest belongs to which branch!
** Thank you for playing! **