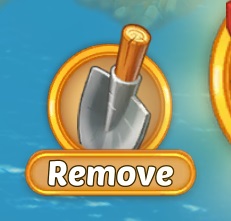 If you find yourself with some extra resources on your map and would like a bit more space, just use the shovel!
To remove an unwanted item:
Tap and hold the shovel icon in the lower right corner
Drag the shovel to the item you want to remove
Tap Yes to confirm that you'd like to remove the item
Note: the shovel cannot be used on all types of items. As you move the shovel, items that cannot be removed will become faded out.
** Thank you for playing! **